Course Aims
The Humanities and Social Science Subjects work with the Mathematical and Scientific Subjects and the four specialist departments to give the students a well-rounded education. The Subjects aim to provide students with the basic academic abilities needed to sufficiently understand the engineering and chemical material they will be learning. Course objectives are as follows: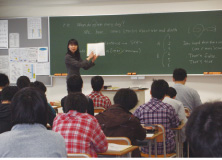 ①

To improve students' ability to communicate with others in Japanese and a foreign language, and thereby gain better understanding of different cultures.

②

To train students to understand the structure and characteristics of modern Japanese society as well as engineering ethics through acknowledging the influence of technology on society.

③

To foster self-discipline and creativity, and train students to see things from a global viewpoint in order to contribute to the welfare of their local community.

④

To encourage proactive thinking, learning and action, and promote healthy bodies and minds, to help students to function as valuable citizens.
Faculty
Title
Name
Specialized field(s)
Professor
ISHIMOTO, Hiroyuki
Chinese Philosophy, Japanese Literature
TANIGUCHI, Makiko
International Relations Law, Intellectual Property Law
SUZUKI, Tomoki
TESOL, Sociolinguistics
KURAMOCHI, Shinobu
Ancient Japanese Literature
Associate
Professor
NEMOTO, Akira
Western History, Economics, Politics
KONISHI, Takuya
History of Physical Education
HONJO, Tadahiro
American Literature
SAKURAI, Yasuko
Linguistics
MIZUNO,Yuko
English Linguistics
SAWAYA, Yusuke
English Education, Educational Technology