Outline
Electrical engineering and information processing are closely related to the development of every industry. The Department of Electrical and Computer Engineering seeks to equip its students with the ability to keep up with the fast-paced development of science and technology. They will learn to apply their knowledge to solve energy and environmental problems with an international perspective. In the first and second years, students will learn the fundamentals of electrical engineering. As they progress, they will learn more specialized techniques as they further their knowledge and skills. Later in the course, multiple options are available so that students can diversify their knowledge or to focus on a specific field. Students are also strongly encouraged to take on an internship to help develop their skills while working in their chosen field. Throughout the five year course, students will participate in hands-on experiments, acquiring practical skills. During their final year, students will undertake a research project which will bring together all of the knowledge and skills they have built in the preceding years.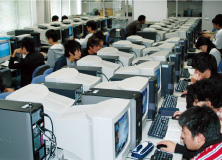 Course Aims
The rapid development of the internet has brought major changes to our society, economy and lifestyles. There have also been major advances in semiconductor technology. Computers are now a part of every kind of electronic device, and these devices are connected to communications networks, forming a ubiquitous information society. It is therefore becoming more and more important to train information technologists to handle this electric and electronic technology. The Department of Electrical and Computer Engineering aims to do this by fulfilling the following course aims:
①

To provide students with knowledge of fundamental aspects of electric and electronic engineering, such as electromagnetism and electric and electronic circuits, and give specialist training in areas such as semiconductor engineering and electric engineering.

②

To provide students with knowledge of information and computational engineering and give specialist training in software programming and network systems, to produce flexible engineers who can handle new technical fields combining electrical and electronic technology and information technology.

③

To train technicians who can think about the effects of technology on society and the environment and use electrical and electronic technology to tackle energy and environmental problems.

④

To improve students' ability to solve problems in the electric, electronic and information fields by teaching them to see things from a global perspective and improving their communication and presentation skills.
Faculty
Title
Name
Specialized field(s)
Professor
DOBASHI, Tsuyoshi
Electric and Electronic Materials Engineering
YOSHIMOTO, Ken-ichi
Electric and Electronic Materials Engineering
OHSHIMA, Kohzoh
Communication and Network Engineering
Associate
Professor
ARIMA, Tatsuya
Optoelectronics
SASAOKA, Hisayuki
Artificial Intelligence, Intelligent Infomatics
TAKAMURA, Koji
Optical Physics, Membrane and Surface Physical Chemistry,
Electric and Electronic Materials Engineering
IGUCHI, Masaru
Electric Power System
Lecture
GIBO, Tatsuya
Pattern Recognition
Assistant
Professor
HATAGUCHI, Masato
High-Voltage Engineering
SHIMADA, Teppei
Database Systems, Web Systems